GIGABYTE AORUS Laptop Repair Experts in London
At Creative IT, we are experts at diagnosing and fixing all hardware and software problems of GIGABYTE laptop models. We offer quick, professional and reliable GIGABYTE AORUS laptop repair and upgrade services for all models.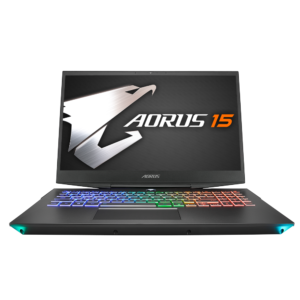 Is your GIGABYTE AORUS laptop freezing or running slow? Broken laptop screen? Your gaming laptop computer won't charge? Black screen or laptop won't turn on? Split liquid on the laptop and it doesn't work properly? Laptop overheating while gaming? Keyboard has stopped working or has missing keys?
With advanced troubleshooting and repair equipment, the trained, experienced and qualified experts at Creative IT are ready to help you today and provide all kinds of GIGABYTE AORUS gaming laptop repair, replacement and upgrade services with quick turnaround time for clients in London. Our team is always dedicated to upholding the highest level of customer service and repairs.
We offer quick turnaround repair and upgrade for all GIGABYTE AORUS laptop models including:
AORUS 15 (Intel 9th Gen)
AORUS 15 (RTX 20 Series)
AORUS 17 (Intel 9th Gen)
AORUS 17 SA
AORUS 17 WA
AORUS 17 XA
AORUS 17 YA
AORUS 5 (Intel 9th Gen)
AORUS 5 GA
AORUS 5 NA
AORUS 7 (Intel 9th Gen)
AORUS 7 GA
AORUS 7 NA
AORUS 7 SA
X5 v8
X7 DT v8
X9 DT
X3 Plus r7
X3 Plus v6
X3 Plus v7
X5 MD
X5 v6
X5 v7
X7 DT v6
X7 DT v7
X7 v6
X7 v7
X9
GIGABYTE AORUS repair and upgrade services we offer include:
Malware, Spyware, Virus removal
AORUS laptop keyboard repair / replacement
Broken / Damaged AORUS laptop screen replacement
Installation and upgrade of operating system
Software troubleshooting and upgrade
Hard drive data recovery
Data back up and migration
Laptop hard drive upgrade / replacement
Laptop motherboard repair / replacement
RAM (memory) upgrade and replacement
Laptop Touchpad replacement
GIGABYTE AORUS DC power jack repair / replacement
GIGABYTE AORUS liquid damage repair
Windows operating system troubleshooting
Creative IT provides convenient local drop off as well as mail-in repair services. Take advantage of our same day GIGABYTE AORUS laptop repair service and solve your gaming laptop problems today.
Contact us today for your GIGABYTE gaming laptop repair requirements. You can call us on 020 7237 6805 or send your request to us at info@creativeit.tv.