With a robust and stylish housing the LIFEBOOK T series is the perfect companion on your business trip. The LIFEBOOK T Series makes you more productive in mobile situations and defines a new way of mobile working. Even though these notebooks deliver high performance, faults may happen all of a sudden. So it is better to have a tie-up with a professional IT support provider for immediate Fujitsu Siemens LIFEBOOK T series repair.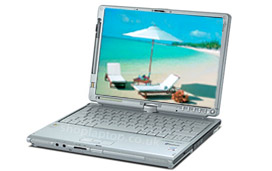 Creative IT is one such company in London, UK with great experience and commitment. You can trust us for your entire LIFEBOOK T series repair and other related services. We are also engaged in LIFEBOOK C Series Repair, LIFEBOOK E Series Repair, LIFEBOOK S Series Repair, LIFEBOOK P Series Repair and LIFEBOOK Q Series Repair. Our onsite and offsite LIFEBOOK T Series repair services available in major cities of London satisfies customers ranging from individual users to business groups.
We have well equipped lab facilities and a strong team of skilled workforce to provide quality service beyond your expectation at very low rates. Just a make a call or drop at our workstation in Central London if you are in crisis due to unexpected system breakdown. Our engineers will reach your site and take necessary steps to fix laptop problems even from component level. They attempt for same day LIFEBOOK T series repair if faults are not much crucial. In case of critical problems the system is taken to our workstation for comprehensive repair. We also make arrangements to return your LIFEBOOK T Series notebook in working condition before our 48 hours turnaround time.
Are you in search of some laptop parts for replacement? Creative IT is a one stop source for refurbished and new laptop accessories. You can select the relevant one at reasonable price. Our experts are happy to provide guidance in replacement service. We are also confident to undertake other services of upgrades, networking, LCD screen repair, motherboard replacement, virus removal, software installation, and data transfer/recovery at trustworthy rates.
Creative IT stands one step ahead in quality service, friendly customer relationship; time bound service, and minimum service charges. We are pleased to share our technical know-how in LIFEBOOK T series repair. Please call us at 020 7237 6805 or send us an email at info@creativeit.tv. Come and experience our perfect LIFEBOOK T Series repair service in London, UK.