Are you in a crisis situation due to a Fujitsu Siemens LIFEBOOK P Series laptop failure? Then its time for professional LIFEBOOK P Series repair service. Let us introduce ourselves. We are team of professionals coming under one roof of a company named Creative IT, based in Central London.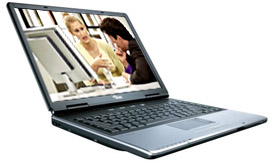 Creative IT from its time of inception itself has gained credibility among customers around various cities in London, UK. We give maximum preference for customer satisfaction and assure to bring you and your laptop back to fully functional state of affairs as quick as possible.
Creative IT has well established repair facilities and trained workforce to provide in lab and onsite LIFEBOOK P series laptop repair in London, UK. We use state of art techniques in our repair service to achieve maximum output at affordable rates. Our team of professionals is aware about your value of time and hence they try to repair your Fujitsu Siemens LIFEBOOK P Series laptop on the same day itself. But if faults are critical we make arrangement to take your system to our workstation in Central London for detailed repair and will return the LIFEBOOK laptop in perfect condition within 48 hours time limit.
Creative IT provides on lab and onsite LIFEBOOK P Series repair at reasonable price nobody in this field can guarantee. Our systematic knowledge of Windows, Linux, UNIX, Novell and other operating systems make our work easier and exceptional.
Fujitsu Siemens LIFEBOOK P Series backlight repair, data recovery service, DC power jack repair, DVD ROM repair, hard drive repair and upgrade, keyboard repair, LCD screen repair, motherboard repair, password removal, screen repair, motherboard replacement and virus removal are some of the services offered as part of our London LIFEBOOK P series repairservice.
Our cordial customer relationship has made us a customer preferred company even from the beginning itself. We charge only for what we have done and always adhere to the estimate given prior to our work. We are happy if you got an idea about our LIFEBOOK P series repair services. To know more please dial at 020 7237 6805 or send us an email at info@creativeit.tv. Your support inspires us to move ahead in this competitive field of IT equipment repairing.