Fujitsu Notebook Repair services and maintenance are offered to customers in around London, UK by Creative IT. With high-end technical support, we can repair all models and makes of leading branded laptops and notebooks. Fujitsu Notebook Repair Service is one of our areas of expertise; we repair all makes of Fujitsu notebook series. Our experts can work with all IT platforms including Microsoft, Apple Mac, Linux, UNIX and more.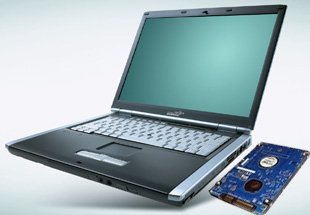 We can repair most of the Fujitsu Notebooks that others cannot. At Creative IT, our certified technicians can handle all the repair and replacement issues related with Fujitsu Notebook Series. We offer a complete repair solution for all Fujitsu notebook series including Amilo Pro V Edition, Amilo Pro V series, LifeBook series and Celsius H series. Our qualified experts can work with all Fujitsu LifeBook notebook series including LifeBook S series, LifeBook C series, LifeBook E series, LifeBook T series, LifeBook P series and LifeBook Q series.
Creative IT provides compatible parts for all models of Fujitsu notebook series. We can repair and replace all Fujitsu Notebook Parts including motherboards, LCD screen, CD and floppy drives, inverters, keyboards and more. Other services such as memory and hard drive upgrades, data recovery and safe data transfer are included in our Fujitsu Notebook Repair service. We also provide support services on installation, configuration and troubleshooting issues.
At Creative IT, our Fujitsu Notebook Repair is based on professionalism and commitment to service. We always work according to the customer's specific requirements. Both onsite and offsite repair service is available with fast turnaround time. Our consultant personnel will help you to determine the most economic way to repair your Fujitsu notebook. If you want to know more about our Fujitsu Notebook Repair in London, please contact us on 0207 237 6805 or email us at: info@creativeit.tv.
Major laptop and notebook brands we repair and upgrade –
IBM,
Sony,
Compaq,
Dell,
Toshiba,
Apple,
Asus,
Acer,
Panasonic,
Packard Bell,
HP,
Gateway,
Fujitsu,
Lenovo,
Alienware
and
Advent.