Get your ESPRIMO Mobile V repair done at Creative IT quickly and efficiently. We are pleased to guarantee full responsibility for the work we carry out. Creative IT has earned credibility among customers by quality performance and cordial customer relationship. Even though we are based at Central London our onsite ESPRIMO Mobile V repair is available in various cities of London, UK. We have the proficiency you can reckon on – wherever and whenever you happen to need it.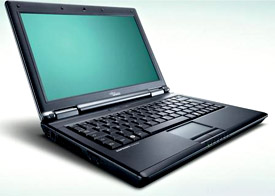 Fujitsu Siemens ESPRIMO Mobile V laptops strike the balance between robust performance and mobility at very attractive price. Hence they have become favorite model for every type of users. Our fully fledged lab facilities at Central London provide offsite ESPRIMO Mobile V repair par excellence. To get onsite service please call or mail us whenever you are in need. We are quick to reach your site for offering ESPRIMO Mobile V repair right in front of your eyes. Your satisfaction is our inspiration for providing time bound first-class result with regards to the following ESPRIMO Mobile V laptop models:
Our customer service representatives are at your service to assist in tracking the progress of ESPRIMO Mobile V repair if the laptop is taken to our workstation. We normally go for same day repair unless errors / faults are so complicated. But we never take weeks to fix your laptop problems. Our maximum turnaround time is 48 hours and we will be back with your ESPRIMO laptop within that time limit.
Creative IT quotes only minimum charge for ESPRIMO Mobile V repair. There is no hidden charge in the estimate and our dealings are very transparent. We try our best to repair laptop parts rather than going for a replacement service. But in some instances replacement is necessary. You have the option to select from our wide range inventories of used or new laptop parts at reasonable rates. As part of ESPRIMO Mobile V repair you can avail other value added services such as networking, virus removal, software installation, data transfer, and upgrades. For more details please contact us at 020 7237 6805 or send us an email at info@creativeit.tv.
Major laptop and notebook brands we repair and upgrade –
IBM,
Sony,
Compaq,
Dell,
Toshiba,
Apple,
Asus,
Acer,
Panasonic,
Packard Bell,
HP,
Gateway,
Fujitsu,
Lenovo,
Alienware
and
Advent.