Welcome to Creative IT. We help you to fix problems of your ESPRIMO Mobile U Series notebook from Fujitsu Siemens Computers. Don't try to repair yourself if there is any unusual sound or display. This may worsen the situation to an unbelievable end. Just make us a call for immediate response. Our engineers are qualified to spot out the cause of an unexpected breakdown of your ESPRIMO Mobile U9200 laptop and use relevant techniques for fixing them.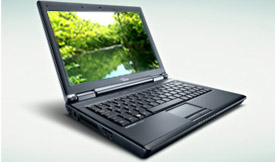 Creative IT always prefers to perform same day ESPRIMO Mobile U9200 repair as we value your time and money. Sometimes advanced lab facilities are needed to solve serious faults with your ESPRIMO Mobile U9200 laptop. In that case the system is taken to our well equipped lab in Central London for comprehensive ESPRIMO Mobile U Series repair.
Creative IT is very punctual in keeping the deadline. We assure to never go beyond our normal turnaround time of 48 hours. Some of the services we carry out as part of our ESPRIMO Mobile U9200 laptop repair service include keyboard replacement, ESPRIMO Mobile U9200 LCD screen repair, CD / DVD drive replacement, hard drive replacement / upgrade, laptop screen cable replacement, LCD screen backlight repair, laptop inverter replacement, operating system installation and software installation.
We also undertake other value added services of networking, data transfer, router configuration, and virus removal services at affordable rates. Our experts constantly go in for laptop parts repair rather than for a replacement. But if replacement is unavoidable, you can also acquire laptop floppy drives, power adapters, motherboards, hinges, LCD screens, RAM and hard disks within your means from Creative IT.
Our service charge for ESPRIMO Mobile U9200 repair is exceptionally very low when compared with that of our competitors. Set-out for best ESPRIMO Mobile U9200 repair from Creative IT at rock bottom price. Do you wish to have peace of mind as regards your laptop? Then have a contract with Creative for regular maintenance to keep your laptop running for long years.
Take a wise decision whenever you need ESPRIMO Mobile U9200 laptop repair service in London, UK. Please do call at 020 7237 6805 or send us an email at info@creativeit.tv for any IT equipment related jobs. Your support is our strength to stand ahead in this competitive field.