Are you tired of browsing to find a professional Fujitsu Siemens ESPRIMO Mobile D Series repair company in London, UK? You have reached the right place and its time to relax. We are happy to introduce ourselves as a renowned IT support provider with great experience and responsibility. Creative IT, our company name, stands apart from our competitors as we provide quality ESPRIMO Mobile D9500 laptop repair service promptly and competently.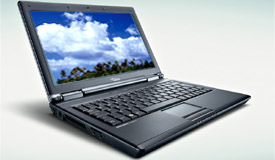 Other than ESPRIMO Mobile D Series repair you can also rely on us to repair other Fujitsu Siemens laptops such as those from the AMILO A Series, AMILO K Series, AMILO M Series, AMILO S Series, AMILO X Series, AMILO P Series, AMILO L Series, AMILO Pro V Edition, AMILO Pro V Series, ESPRIMO Mobile V, ESPRIMO Mobile M Series, ESPRIMO Mobile U Series, LIFEBOOK C Series, LIFEBOOK E Series, LIFEBOOK S Series, LIFEBOOK P Series, LIFEBOOK Q Series, LIFEBOOK T Series and CELSIUS H Series. Creative IT is proud to have a dedicated and qualified team of technicians and engineers. Their versatility to handle severe problems of ESPRIMO Mobile D9500 notebooks is accepted by our clients. Our customers including home users and business concerns trust us for onsite and offsite ESPRIMO Mobile D9500 laptop repair.
We can understand your tension when your ESPRIMO Mobile D9500 laptop breaks down all of a sudden. Feel free to call us and our engineers will be at your site for immediate service. They are friendly with customers and analyze faults to give an estimate for ESPRIMO Mobile D9500 repair service. If you are pleased with our estimate we will start our work on spot and try to fix problems on the same day itself. Sometimes advanced tools and techniques are needed for ESPRIMO Mobile D Series repair, and then the laptop is taken to our full fledged lab in Central London.
You can avail additional information with regards to our ESPRIMO Mobile D9500 laptop repair from our experts at any time of your convenience. Please call us at 020 7237 6805 or send us an email at info@creativeit.tv. We value your suggestions to improve our services in and around London, UK.