Creative IT provides customers with reasonably priced, reliable and quick turnaround eMachines desktop repair and upgrade services. Our group of knowledgeable technicians and engineers offer services for clients based in and around London as well as all over the UK. Creative IT will be of assistance to get your defective desktop computer up and running in the quickest possible time. Our eMachines desktop computer repair services cover a comprehensive range of technical issues including software and hardware issues.
Common eMachines Desktop Computer Problems: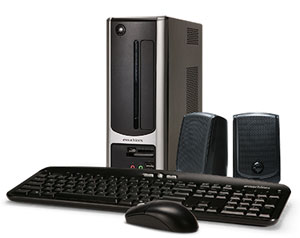 Computer shutting down automatically
Computer boot problems
Desktop computer won't start
Computer hardware failure
Computer blue screen of death error
Computer is very sluggish
Problems writing to a CD/DVD-RW drive
Windows sound problems
Memory is not recognized
Video and monitor problems
Virus, worm, or spyware infection
Printer and scanner problems
Lockups and software problems
Hard drive problems
E-Mail, modem, and Internet problems
Our experienced eMachines desktop repair technicians can troubleshoot all desktop problems and accordingly repair or upgrade your computer in 1 to 2 days. We will put in plain words every phase of the repair process and at all times provide a competitive quote for any job we carry out, so that our customers will for no reason have any surprises.
eMachines Desktop Repair and Upgrade
eMachines monitor replacement
Memory upgrade and replacement
Processor upgrade and replacement
Virus / adware / spyware removal
Installation of latest anti virus software
Hard drive upgrade and replacement
Motherboard repair and replacement
Installation / re-installation of operating system
Hard drive data recovery and back up
Troubleshooting flat panel monitor issues
eMachines computer tune up and optimisation service
All our London eMachines desktop computer repair and upgrade services come with a 90 day return to base warranty. For more information about our London eMachines desktop repair, upgrade and replacement services give us a call today at 020 7237 6805 or send us an e-mail at info@creativeit.tv.