Professional Dell PC Repair Expert UK
Creative IT is a Dell desktop PC repair specialist based in the central part of London, UK. We offer a complete range of computer repair and maintenance solutions and other IT support services to those in and around London and throughout the UK. As a specialized IT service provider, we offer convenient and affordable Dell desktop PC repair solution for our valued customers. At Creative IT, we combine creative problem solving with innovative technologies and skilled personnel.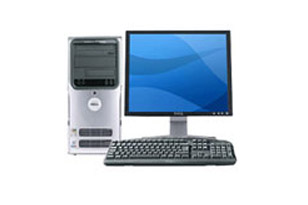 Same day onsite Dell desktop PC repair service is our specialty. Our offsite desktop PC repair service is also available within fast turnaround time.
The Dell desktop line offers customers the perfect combination of performance and value, featuring everything from basic, economical models to extreme-performance systems with the very latest features. At Creative IT, we offer a complete repair solution for Dell Desktop PCs. This includes:
Dell Dimension Desktop PCs –Dell Dimension E520, Dell Dimension C521,
Dell Dimension E521, Dell Dimension 9200 and Dell Dimension 9200C
Dell OptiPlex Desktop PCs – Dell OptiPlex 745, Dell OptiPlex 320,
Dell OptiPlex 740 and Dell OptiPlex 745c
Dell XPS Desktop PCs –Dell XPS 210, Dell XPS 710,
Dell XPS 410 and Dell XPS 710 H2C
Dell Precision Desktop Workstations –Dell Precision 390, Dell Precision 490
and Dell Precision 690
We have a team of certified and experienced technicians and engineers who can perform London Dell desktop PC repair services in a timely and professional manner. Out Dell desktop computer and laptop repair team consists of Microsoft Certified Professionals (MCPs), Microsoft Certified System Engineers (MCSEs) and A+ certified engineers. Some of the specific Dell desktop PC onsite repair services that we offer include virus detection and removal, software installations, hardware repairs and upgrades, data recovery, data backup, CD-RW and floppy drive replacements, keyboard replacements, wired or wireless PC networking, printer setup, annual PC checkup, disk cleanup and maintenance, physical cleaning of components, antivirus upgrades and broadband Internet setup (Cable/ DSL).
At Creative IT, we provide customized Dell desktop PC and Dell laptop notebook repair solutions and attractive maintenance contracts to reduce expenses. The next time you require Dell PC computer repair and maintenance in London, call 0207-237-6805. We assure our customers timely service at reasonable rates. Check out our website www.creativeit.tv to know more about our London Dell PC repair and maintenance services and solutions. You can also e-mail us at info@creativeit.tv.to discuss your Dell desktop PC repair in London, UK.
Our London Dell PC Services
Dell PC Backlight Repair
Dell Circuit Board Repair
Dell Cooling Fan Repair
Dell PC CD ROM Repair
Dell Data Recovery Service
Dell PC Data Migration
Dell PC Data Transfer
Dell DC Power Jack Repair
Dell PC DVD ROM Repair
Dell PC Fix and Repair
Dell PC Hard Drive Upgrade
Dell PC Hard Disk Repair
Dell Hard Disk Data Recovery
Dell PC Keyboard Repair
Dell PC Maintenance and Repair
Dell PC Upgrade
Dell LCD Screen Repair
Dell PC Motherboard Repair
Dell PC Memory Upgrade
Dell Offsite PC Repair
Dell Onsite PC Repair
Dell PC Password Removal
Dell PC Repair and Upgrade
Dell PC Screen Repair
Dell PC Service Centre
Dell Motherboard Replacement
Dell PC Virus Removal