Being a world-class laptop repair solution specialist, Creative IT can provide comprehensive Dell notebook repair solutions for all kinds of Dell laptop repairs and problems, which have proven impossible for many other companies in the laptop repair industry. We have at all times helped clients to get back on track with their life by providing a guaranteed fast friendly and stress free Dell Inspiron 1200 laptop service in London, UK. Creative IT provides businesses and individuals with a professional laptop repair service for nearly all of the manufacturers in the market.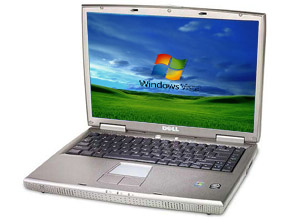 We deliver outstanding Dell Inspiron 1200 repair service to our customers at a price that eliminates competition in and around London. We are specialists in diagnosing and repairing all laptop computer problems. If you are having problems upgrading, or your Dell Inspiron 1200 machine is running slow, or even if it's dead, we can help!. While maintaining the highest level of laptop repair service, Creative IT keeps the repair charges as low as possible so that every customer can access our Dell Inspiron 1200 repair service.
Simply give us an idea about the problem your Dell Inspiron 1200 laptop experiences? Technical experts at Creative IT will make an assessment and give a rough idea about the estimate of charges. Only on your approval of charges, we commence the work. The standard turnaround time for our offsite laptop repairs is between 24 to 48 hours. Some of our services include debugging, critical system file repair, fix DLL errors, hardware conflicts, software conflicts, install and repair drivers, data copy and backup, troubleshooting, firewall protection and setup, registry fix/repair and clean-up.
When you make use of Creative IT for your Dell Inspiron 1200 repair service, you can be guaranteed that all the repair work we undertake will be carried out to the highest standard. Why wait days or weeks for a laptop repair service? Call us now for quick response.
In order to know more about our Dell Inspiron 1200 repair services in and around London, call our customer care representatives at your convenient time. To contact us, dial 020 7237 6805. You can also send us an e-mail at info@creativeit.tv and we would be glad to help you.