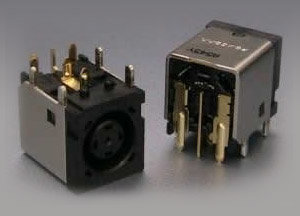 Have you got a loose power connection on your Dell laptop jack or a broken laptop power plug on your Dell laptop or notebook computer? Common faults can occur to Dell DC power jack due to broken or loosen DC power jack, defective power sockets, or waning of solder links to the motherboard. In such a critical situation you can rely on Creative IT for world class Dell DC power jack repair and replacement services. If you have broken your DC power connector we have great inexpensive solutions for your problems. You can just replace your Dell laptop DC jack on your motherboard instead of having to order a new motherboard.
Creative IT is an established IT support provider in Central London and nearby cities. We assure you high quality service, quick turn around times, cordial customer relationships, and reasonable price tags. We also take full responsibility for the Dell DC power jack repair and replacement services we undertake.
Take the advantage of our state-of-art infrastructure and lab facilities for a creditable Dell DC power jack repair service. Our technicians are on call and they will reach your premise and take the defective Dell laptop system to our lab in Central London for comprehensive repair and part replacement services. We always provide a quote prior to the work for getting approval from the client and never take extra charges other than the quoted rates.
Dell Inspiron (2.5mm) : 1000, 1150, 1200, 1300, 2000, 2200, B120, B130, 1100, 2500, 2600, 2650, 3650, 3700, 3800, 4000, 4100, 4150, 5000, 5000E, 5100, 7500, 8000, 8100, 8200, 3000, 3200, 3500, 7000, 500M, 600M, 700M, E1505, 1150, 5150, 5160, 6000, 8500, 8600, 9100, 9200, 9300, 9400
Dell Latitude (2.5mm) : 100L, D400, D410, D500, D505, D510, D520, D600, D610, D800, D810, 433M, 433MC, 433MCX, 450MC, 450MCX, 475C, 475D, 475MC, LX4100, LX4100D, LX4100T, C-Series, CP, CPi, CPiA, CPiD, CPiR, CPm, CPt, CPtC, CPtS, CPtV, CPx, CPxH, CPxJ, CS, CSR, CSX, X200, C400, C500, C510, C540, C600, C610, C640, C800, C805, C810, C840, C-Dock, C-Port, V700, V710, V740, Xpi 133ST, Xpi 75, Xpi CD, Xpi P100SD, XPi P133
Dell Precision Workstation:M20, M60, M40, M50
Our technical staff can help you identify the correct Dell DC power jack that you need for your laptop. In some instances replacement is recommended if Dell the DC power jack is beyond repair. Creative IT stocks DC power jacks for every make and model of Dell laptops. We are committed to supplying Dell laptop DC power jacks, connectors and sockets at the most reasonable prices in London, UK.
Creative IT technicians are highly competitive and skilled to handle any problems with Dell DC power jacks within short span of time. Get in touch with our customer service representatives at 020 7237 6805 or send us an email at info@creativeit.tv to avail more information about Dell DC power jack repair and replacement services.