London Compaq PC Repair Expert
Are you searching for a reliable company to repair your Compaq desktop PC? We welcome you to Creative IT, a well established IT equipment repair service center, dedicated to providing professional desktop PC repair, laptop repair, Apple Mac repair and services for all other types of IT related equipment.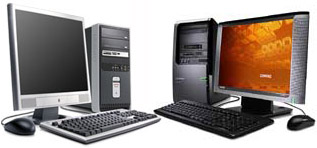 In today's technological world, Creative IT offers on-site and in-house repair service for all models of warranty and out-of-warranty Compaq Desktop PCs which include the Compaq Presario SR 2100 PC series – (Compaq Presario 2109 desktop pc, Compaq Presario 2119 desktop pc, Compaq Presario 2125 desktop pc, Compaq Presario 2129 desktop pc and Compaq Presario 2149 desktop pc) and the new Compaq Presario SR 5000 PC series – (Compaq Presario 5019 desktop pc, Compaq Presario 5027 desktop pc and Compaq Presario 5079 desktop pc). We have honest and trusty technicians who have in-depth knowledge and practical experience to diagnose and fix complex problems in most these modern machines which combine advanced technology with productivity tools.
Compaq desktop PCs are easy to set-up and use and are a great value addition to your home or office. As a recognized leader in the field, we offer repairing service to all parts and accessories of Compaq Desktop PCs including keyboards, circuit boards, motherboards, drivers, displays, adapters, power cords, batteries, cards and many other associated parts. Moreover, at Creative IT, we have the power utilities to extract data from primary or secondary storages, prevent spam, remove spyware, and remove passwords.
Prolong the life of your Compaq desktop PC at a fraction of the cost you might incur with other service providers! Depending on your request, our technicians will first identify the faults and the cause of the faults through a thorough inspection. We will inform our customers about the causes of the problem and deliver free tips to avoid minor user-created faults in future. Getting approval from you, we will perform your Compaq desktop PC repair and return it to you within a short period of time.
In our workshop, we have standard and proprietary parts and accessories of Compaq Desktop PCs. You can thus avail of the replacement parts at the right time. Creative IT offers desktop PC maintenance contracts and customers can also avail of our expert assistance in processing an insurance claim with regards to all models and types of Compaq Desktop PCs. All the parts we replace are allowed a warranty period. Wish to contact Creative IT for your London Compaq desktop PC repair service? Well, call us at 020 7237 6805 or send us an e-mail at info@creativeit.tv