Creative IT is a professional laptop repair facility located in Central London, UK. We are the best place in and around London to send us any of your faulty Compaq Evo laptop for superior service and repair work! Our engineers will clean each of the Compaq Evo laptops; maximize the laptop's life by reducing the build up of dust and dirt, which can cause failure due to overheating.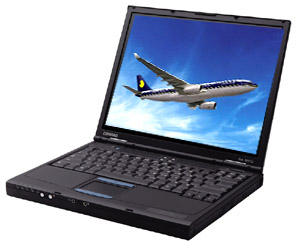 Do you wish to get laptop parts for replacement at affordable rates? Then you can select from our wide stocks of Compaq Evo laptop accessories and parts within your budget. It is sensible to have a maintenance contract with us for total satisfaction and relaxation. Our regular maintenance service will help to extend the life for your Compaq Evo laptops. We specialize in the repair of all models in the Compaq Evo laptop range. These include:
As one of the fastest growing independent laptop and computer repair company in London, we always strive to make available the best Compaq Evo laptop repair service possible in UK. Our London Compaq Evo notebook repair services are available on-site and off-site. Our on-site Compaq Evo laptop repair charges will vary according to your location and severity of faults. If we are unable to solve the fault on the spot, we send the system to our workstation in Central London to provide complete diagnosis and repair coverage. Upon completion of the work, we will ship your Compaq Evo laptop computer back to you within a short duration of time.
Few of the services we perform on a regular basis for our Compaq Evo laptop customers:
Compaq Evo Keyboard Replacement
Compaq Evo LCD Screen Repair
Compaq Evo Laptop Screen Repair
Compaq Evo Data Recovery
Compaq Evo CD Drive Replacement
Compaq Evo Hard Drive Replacement
Compaq Laptop Screen Cable Replacement
Compaq Evo Floppy Drive Replacement
Compaq Evo LCD Screen Backlight Repair
Compaq Evo Laptop Inverter Replacement
Compaq Evo Operating System Installation
Compaq Evo DVD Drive Replacement
Compaq Evo Laptop Backlight Repair
Compaq Evo Software Installation
For better, affordable, and speedy Compaq Evo laptop repair service in London, give us a call at 0207 237 6805 or sent us an e-mail at info@creativeit.tv