Are you desperately looking for a service provider for your Apple PowerBook repair needs? Or is your Apple PowerBook running out of warranty period and you would like the repair work to be done soon? Creative IT, the master in IT servicing and a center for London Apple PowerBook repair, will get the problems solved for you. Whatever problems you are having with your Apple PowerBook device we can be sure to fix it. Although we are a London based company, with reliable and top quality service, we have earned nationwide reputation for Apple PowerBook repair.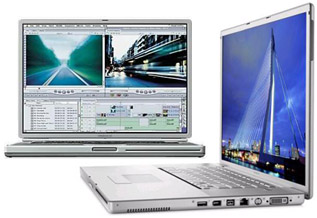 Here at Creative IT, we take pride in our highly efficient and skilled workforce, which include experienced technicians and software and hardware engineers. With the support of our efficient technicians, we deliver fast and reliable onsite and offsite Apple PowerBook repair service for all models of Apple PowerBooks. Before repairing, our professionals will thoroughly analyze your Apple PowerBook. The repair solutions will be carried out based on the diagnosis made.
Some of the repair services provided by us as part of our Apple PowerBook repair include data recovery, Network Setup and Administration, Network Backups and Data Protection, Wireless Airport Installations, Spyware and Adware Removal, Operating System Installations and Upgrades, E-Mail Troubleshooting, OS X Transition/Migration, display screen repair, upgrading hard drives, RAM upgrades, data transfer and troubleshooting of peripheral such as scanners and printers. The best part of our service is that we replace your faulty Apple PowerBook parts with genuine Apple parts.
Total customer satisfaction at reasonable rates makes Creative IT stand out from other Apple PowerBook repair service providers. Most existing clients have contacted us through referrals and continue to offer repeated business. Furthermore, we also undertake repair of other models of personal computers, Apple Macs, laptops and notebooks. We have a dedicated IT support desk to provide our clients and customers expert advice or guidance on Apple PowerBook repair.
The next time you require Apple PowerBook repair and superior service, choose Creative IT for unparalleled repair service. Please contact us at 020 7237 6805 or e-mail us at info@creativeit.tv for more detailed information on how we can provide Apple PowerBook repair both accurately and cost-effectively in London, UK.