Creative IT UK is a full-service London MacBook Pro screen repair store providing reliable technical support in a fast and friendly manner for all Unibody MacBook Pro and Aluminum MacBook Pro notebook models. Based in Central London, we offer Apple MacBook Pro repair services for individual and business clients across the United Kingdom. We can perform any of the screen repair tasks that you require, at an affordable cost.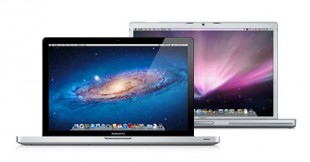 The team of technicians at Creative IT UK has extensive experience when it comes to identifying and working with various London MacBook Pro screen repair or replacement needs. Whether you need an inverter board assembly or backlight repair or a complete Apple MacBook Pro screen replacement, we will provide the right solution for you. We can replace any kind of damaged, broken or cracked 13 inch, 15 inch or 17 inch MacBook Pro screen with a genuine new screen. We have all the latest service tools to ensure that your Mac laptop computer is properly diagnosed and repaired quickly; almost all repairs are completed within the same day. We also offer a standard warranty of 90 day for all our Apple MacBook Pro repair and replacement services.
London Apple MacBook Pro Screen Troubleshooting and Repair
We have experience in providing London MacBook Pro screen repair services for any kind of screen and display issues with your Unibody or Aluminum model such as:
Smashed or broken or cracked screen
Solid white colour display on the screen
Screen with faint or dim images
No video on MacBook Pro notebook screen
Shows jumbled images on the screen
Dark spots on laptop display
Grey smudge marks behind the glass screen
Dead pixels or stuck pixels on LCD Screen
Distorted or scrambled video on MacBook Pro notebook screen
Macbook Pro with no backlight
Macbook Pro screen discoloration
MacBook Pro Screen goes black
At Creative IT, we are committed to helping our clients get the right kind of London Apple MacBook Pro screen repair service and convenience they are looking for their Unibody or Aluminum notebook models. We offer nationwide repair service through mail-in support. Our technicians will always have your 13 inch, 15 inch and 17 inch MacBook Pro screen replacement and support services completed as quickly as possible. You can bring in your damaged Mac laptop to our service store in Central London or just ship it to us.
For all your home or office London 13 inch, 15 inch or 17 inch MacBook Pro screen repair needs, just give us a call on 020 7237 6805. You can also send your queries to us at info@creativeit.tv.