Are you searching for a qualified specialist to undertake your Apple Mac Repairs in London in an efficient manner? Then we invite you to Creative IT. Located in London, we are one of the servicing experts supplying Apple Mac computer parts and providing repairing services. We always strive to extend high quality Apple Mac Repair Service at cost-competitive rates.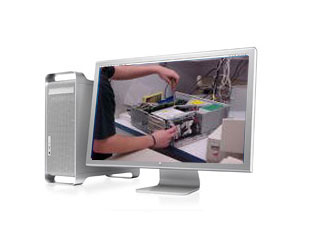 To help our Macintosh users, we offer our services to all makes and models of Apple Macintosh computers like iMac, G3, G4, G5 and Apple Mac Laptops, MAC Desktops, iBooks, Apple PowerBooks and Ex Demo Macs. We specialize in all hardware and software problems, system crashes, boot up problems, networking problems, data recovery, upgrades (hardware, memory and optical drive) and virus removal. Creative IT stocks an extensive inventory of hardware spares and accessories of Macintosh computers which include hard drives, key boards, CD, DVD, floppy drives, CPU, logic boards, power connector, mouse, cables, adapters, connectors and many more.
You can discuss your Apple Mac problems with us at any time of the day even during IT staff holidays. Just inform us whether you need onsite or offsite Apple Mac Repair Services. If you wish to solve your computer problems by yourself, we can also offer expert advice.
In the case of on site service, our highly trained, technicians will fix your computer problems right. Here at Creative IT, we club the use of ultrasonic equipment and latest technology to clean computer boards damaged by liquid spills.
Our onsite Apple Mac Repairs will be completed and your system returned to top running condition within hours. If it is a major problem, we ship the equipment to our workstation in London for further diagnosis and return the faulty Apple machine within 48 hours. Our Apple Mac repair servicing is the best in the industry and meets all industry standards.
You can contact us for Apple Mac Repair service in London, UK at 020 7237 6805 or send us an e-mail at info@creativeit.tv