Creative IT, based in Central London, provides professional Apple Mac Pro repair and upgrade services in the UK. We are a one stop Apple Mac repair centre for your entire out of warranty repair needs. We pride ourselves on providing quick, high-quality Apple Mac Pro desktop computer repair, upgrade and servicing to residential and corporate customers.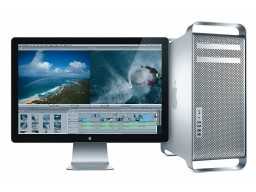 Some of the Apple Mac Pro common problems experienced by users include Mac Pro computer won't turn on, RAM problems, Mac Pro compatibility issues with Windows 7, hard drive failures, wireless mouse and keyboard issues, power supply issues, FireWire slow or unresponsive when using 64-bit Microsoft Vista, logic board failure or the audio may not switch when new devices are connected. We have experienced Apple Mac Pro repair technicians who can carry out the essential repair, upgrade, clean-ups and fixes, maintenance or installation services of Apple Mac Pro desktop computers (Mid 2006,
Early 2008, Early 2009 and Mid 2010 models). Our team of technicians will assess your requirements so as to provide our clients with the best possible solution at highly competitive prices for the below models.
Mac Pro – (MA356LL/A)
Mac Pro (Early 2008) – (MA970LL/A)
Mac Pro (Early 2009) – (MB871LL/A), (MB535LL/A)
Mac Pro (Mid 2010) – (MC250LL/A), (MC561LL/A)
Mac Pro Repair and Upgrade Services
With over 15 years of experience in the computer repair industry, you can feel secure that your Mac Pro desktop computer is in knowledgeable safe hands. Our London Mac Pro repair services include:
Hard drive upgrade and replacement
Mac Pro data recovery
Data migration and back up
Mac Pro memory (RAM) upgrade and replacement
Resolving Internet related problems
Mac Pro logic board repair and replacement
Software troubleshooting and upgrade
Keyboard repair and replacement
Mac OS X installation and upgrade
Mac Pro power supply replacement
Most Apple Mac Pro repair, upgrade and replacement services are completed either the same day or within the next 24 hours. Creative IT offers a 90 day return-to-base warranty on all parts supplied and repairs done at our Central London Apple Mac repair centre.
Our Apple Mac repair centre is open from 9.00 am to 6.00 pm, Monday to Saturday. For more information about our London
Apple Mac Pro repair, upgrade and replacement services give us a call today at 020 7237 6805 or send us an e-mail at info@creativeit.tv.