At Creative IT, based in Central London, we offer professional Apple Mac mini repair and upgrade service. Our team of experienced Apple Mac technicians will get you up and running again quick. With its ultra-thin aluminium design, a removable bottom panel for easy access to memory and a space-saving built-in power supply, the Apple Mac mini is pretty incredible.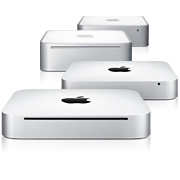 The common Apple Mac mini problems experienced by users include Mac mini desktop computer won't turn on, can't use Bluetooth devices with Server Assistant, Mac mini displays no video, installation, start-up, and login issues, hard drive failures, reduced brightness with some VGA displays, memory problems (RAM), logic board failure, computer is not responding at all, having trouble using DVD or CD sharing, Internet connection issues and slow system performances. Creative IT has qualified Apple Mac mini repair technicians who can perform the necessary repair, upgrade, maintenance or installation services of all Apple Mac mini desktop computer models including PowerPC G4, Intel Core Duo and Intel Core 2 Duo models.
Mac mini (original) – 1.25GHz (M9686LL/B), 1.42GHz (M9687LL/B), SuperDrive Mac mini (M9971LL/B)
Mac mini (Early 2006) – 1.5GHz (MA205LL/A), 1.66GHz (MA206LL/A)
Mac mini (Late 2006) – 1.66GHz (MA607LL/A), 1.83GHz (MA608LL/A)
Mac mini (Mid 2007) – 1.83GHz (MB138LL/A), 2.0GHz (MB139LL/A)
Mac mini (Early 2009) – 2.0GHz (MB463LL/A), 2.0GHz (MB464LL/A)
Mac mini (Late 2009) – 2.26GHz, 2.53GHz, 2.66GHz (MC238LL/A, MC239LL/A, MC408LL/A)
Mac mini (Mid 2010) – 2.4GHz and 2.66GHz (MC270LL/A, MC438LL/A)
Mac mini Repair and Upgrade Services
As part of our London Apple Mac mini repair and upgrade services, we combine our skills and knowledge with exceptional customer service, in an attempt to guarantee complete satisfaction. Our Mac mini desktop computer repair services include:
Hard drive upgrade and replacement
Mac mini data recovery
Data migration and back up
Mac mini memory (RAM) upgrade and replacement
Resolving Internet related problems
Mac mini logic board repair and replacement
Software troubleshooting and upgrade
Keyboard repair and replacement
Mac OS X installation and upgrade
Mac mini power supply replacement
Creative IT offers a 3 month return-to-base warranty on all Mac parts supplied and Apple Mac mini repair and upgrade services completed at our Central London Mac repair centre. Our Apple Mac repair centre is open from 9.00 am to 6.00 pm, Monday to Saturday. For more information about our London Apple Mac mini repair, upgrade and replacement services give us a call today on 020 7237 6805 or send us an e-mail at info@creativeit.tv.