Creative IT UK, a leading Apple Mac desktop and laptop repair service provider in the UK, offers component level services for your Apple logic board repair needs. With this service, we will make a diagnosis and accordingly repair your faulty system boards and help in troubleshooting problems with your Apple Mac desktop or laptop computer. We offer excellent logic board repair and replacement solutions for all Apple Mac desktop and laptop computer models including iMac (Intel-based), iMac G4, iMac G5 + G5 (iSight), Mac mini, Mac Pro, Power Mac G5, Power Mac G4, eMac, MacBook, MacBook Air, MacBook Pro, PowerBook G4, PowerBook G3, iBook G4 and iBook G3 models.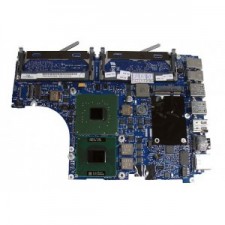 Component Level Apple Mac Motherboard Repair
The standard features of our Apple logic board repair service include expert diagnosis, component level repair and quality replacement solutions using genuine Apple spare parts. Regardless of whether you have an issue with a damaged logic board component or a graphics chipset related problem, we will resolve it as quickly as possible. As we stock a complete array of logic boards and related parts, we can offer you with the best quality, genuine Apple logic board replacement services. It also gives us the opportunity to offer you reliable Apple laptop logic board repair and replacement solutions at affordable prices.
We offer efficient Apple logic board repair services for all types of system problems such as:
Kernel panic issues
No startup chime
Apple computer performance is very slow
Showing black screen at startup
Lines or stripes running across the screen
Scrambled or distorted video display
Apple Mac computer overheating
Defective or not working ports
SuperDrive not recognized
Apple computer keeps freezing
Mail-In and Drop Off Apple Mac Logic Board Repair and Replacement  [show]
Bath . Birmingham . Bradford . Brighton and Hove . Bristol . Cambridge . Canterbury . Carlisle . Chester . Chichester . City of London . Coventry . Derby . Durham . Ely . Exeter . Gloucester . Hereford . Kingston upon Hull . Lancaster . Leeds . Leicester . Lichfield . Lincoln . Liverpool . Manchester . Newcastle upon Tyne . Norwich . Nottingham . Oxford . Peterborough . Plymouth . Portsmouth . Preston . Ripon . Salford . Salisbury . Sheffield . Southampton . St Albans . Stoke-on-Trent . Sunderland . Truro . Wakefield . Wells . Westminster . Winchester . Wolverhampton . Worcester . York
Creative IT UK provides nationwide Apple logic board repair, troubleshooting and replacement support for your individual and corporate technical needs. You can simply bring in your damaged desktop or laptop to our Apple Mac repair store in Central London or deliver it to one of our local drop off locations. You can also choose to send your computer by the use of a shipping service. We can provide a free estimate on Apple logic board replacement as well. You will get updated information on the repair status all the way through the process.
If you need our help in finding the right Apple logic board repair or replacement solution, our service technicians will assist you. Just give Creative IT UK a call on 020 7237 6805 or send your request to us at info@creativeit.tv.