Creative IT is a leading Apple laptop repair store in Central London, offering quick and expert technical support for your home or business Mac laptop issues. More than just a locally owned Apple Mac laptop repair store, we are a client-focused IT service facility that provides technical solutions to customers throughout the United Kingdom. We take pride in our ability to offer you an in-depth diagnosis and then recommend a repair plan and the most affordable options available.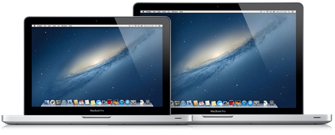 At Creative IT UK, we specialise in London Apple laptop repair and maintenance services and our aim is to resolve any Mac issues that you may encounter. We ensure diagnosis and repair of any type of laptop issues in a timely and efficient manner. We are experts in the repairing, servicing and maintenance of all Apple Mac notebook computers including PowerBook G4, iBook G4, MacBook Pro, MacBook Air and MacBook models. Our skilled technicians can fix any Mac issues down to the component level including the replacement of damaged or faulty hardware and parts. We work with all common types of Mac laptop computer issues including notebook not powering on / laptop will not turn on, repeated kernel panic messages, hard drive is failing or clicking, NVIDIA GeForce graphics processor failure, fan noise and laptop overheating problems, failed MagSafe DC-In board, Mac laptop won't detect SuperDrive, defective USB or FireWire ports, logic board failure, notebook turns on but screen stays black (no video issues), computer crashes frequently, memory slot issues, distorted video display, cracked or damaged screen or glass, damaged top or bottom case, computer has been running slowly, liquid damaged Mac laptop issues and other logic board level system failures.
Some of our major London Apple laptop repair services include:
Apple logic board repair and replacement
LCD / LED screen repair and replacement
Keyboard repair and replacement
Memory (RAM) upgrade or replacement
Hard drive upgrade or replacement
SuperDrive upgrade or replacement
Hard drive data recovery
DC-in port replacement
Exterior casing replacement (top and bottom)
Specialist Apple Mac Laptop Repair and Upgrade
Our Apple laptop repair store is based in Central London. You can either mail-in your PowerBook, iBook, MacBook Pro, MacBook Air or MacBook notebook to our store or you can drop by our store anytime during our business hours.
If you require further assistance regarding our London Apple laptop repair services, please contact us on 020 7237 6805. You can also forward your request to us at info@creativeit.tv.