Is your iPod frozen or won't turn on? Looking for a specialized Apple iPod repair and servicing company in London? Then, Creative IT is the best place to receive professional Apple Mac Repairs and repair solutions for all models of Apple iPod. We are a recognized IT support company based in central London, engaged in the business of repairing and replacement services for all makes and models of computers and laptops. Our Apple iPod repair services are regarded as one of the best repair services available in London. We undertake to repair all types of problems and faults encountered by your Apple iPod model, no matter if it is a first, second, third, fourth (photo) or fifth generation iPod; iPod mini, iPod nano, or the display-less iPod shuffle.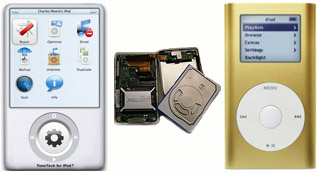 At Creative IT, we offer both on-site and carry in service for your Apple iPod repair needs. We have knowledgeable and skilled engineers who can easily diagnose and fix most of the problems encountered by these iPod models. We can repair all iPod faults and problems that are caused by broken or damaged LCD display, dead battery or weak battery, audio jack damage, clicking noises from hard drive, stuck in disc mode, music skips, motherboard fault, constant rebooting and other hardware and software faults.
Our in-house workstation is fully equipped with a complete set of tools and equipment, required for Apple iPod repair and maintenance. We also stock a complete selection of parts for replacement services.
Creative IT provides only genuine Apple replacement parts for your iPod. We also carry parts for older or discontinued models, such as iPod Mini parts.
Being a professional Apple iPod repair center, Creative IT can provide low cost repair and replacement services for the Apple iPod models mentioned below:
iPod shuffle (Second Generation) (1 GB)
Fifth Generation iPod (Late 2006) (30 GB)
iPod nano (Second Generation) (2 GB, 4 GB, or 8 GB) / iPod nano (1 GB)
Fifth Generation iPod (30 GB) & (60 GB) (also known as iPod with video)
iPod nano (4 GB) / iPod nano (2 GB)
iPod with color display (60 GB)
iPod photo (30 GB), (40 GB) & (60 GB) (also known as iPod with color display)
iPod mini, iPod mini (4 GB Second Generation) / iPod mini (6 GB Second Generation)
iPod shuffle (512 MB) / iPod shuffle (1 GB)
iPod (20 GB Click Wheel) / iPod (40 GB Click Wheel)
iPod (20 GB dock connector), iPod (40 GB dock connector), iPod (10 GB dock connector), iPod (15 GB dock connector) & iPod (30 GB dock connector)
iPod (10 GB touch wheel) / iPod (20 GB touch wheel)
iPod (10 GB scroll wheel) / iPod (5 GB scroll wheel)