We know that it's frustrating when your Apple iBook laptop breaks down and that you need a fast turnaround with a professional service. We are a central London based IT support company providing repair and consultancy services to all models and brands of computers, laptops and notebooks including Apple iBooks. We are your total solution for all your Apple iBook repair needs; we are dedicated in providing the best iBook repair service nationwide. We specialize in Apple iBook repairs, parts and service.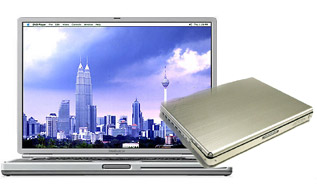 Creative IT helps individuals and businesses get back to work with complete laptop and notebook repair services. We strive very hard to be your first and last alternative for all your Apple iBook repair needs in London and surrounding areas. As a consumer oriented company, Creative IT will satisfy the Apple iBook repair needs of our customers in London and nationwide.
Creative IT offers comprehensive nationwide Apple iBook repair solutions to individuals, small businesses, corporations, schools, governments, and other computer service centers. As part of our Apple iBook repair service, whenever possible we try to repair a part before replacing it. Our qualified Apple iBook repair technicians can perform software installation and troubleshooting as well as component level repairs of iBooks and will quickly meet your entire Apple iBook upgrade needs.
Some of our London Apple iBook repair services provided include troubleshooting hardware and software problems, logic board repair service, RAM and hard disk upgrades, power supply repair, LCD display panel repair, LCD screen replacements, combo and super drive upgrades, keyboard replacement and examining vital components of your Apple iBook system for wear and tear.
With our onsite and off-site Apple iBook repair service facility, we can diagnose and resolve most Apple iBook problems and issues within a short span of time and that too at affordable prices. Here at Creative IT, we provide professional repair work for all Apple iBook models including Apple iBook (FireWire) model, Apple iBook (Dual USB) model, Apple iBook G4 12″, Apple iBook G4 800 MHz, Apple iBook G4 933 MHz, Apple iBook G4 1 GHz, Apple iBook G4 1.2 GHz, Apple iBook G4 1.33 GHz and the Apple iBook G4 14″ 1.42 GHz SuperDrive model.
We hope the information provided here on Apple iBook repair has been helpful. If you need further assistance, our knowledgeable customer associates are only a phone call away. We can be reached at 020 7237 6805 or send us an email at info@creativeit.tv.