Creative IT, based in Central London, is a group of experienced Apple Mac engineers and professionals providing expert Apple laptop and desktop computer repair, support and support services at highly competitive rates to residential and business clients in London and all over the UK. We offer reliable and specialist Apple eMac repair and upgrade services.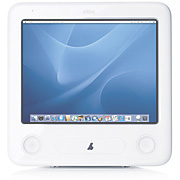 Common problems your eMac desktop can experience?
Distorted or shrunken video
AirPort Extreme card not recognized in Mac OS 9
eMac display makes a noise when computer starts up
Popping sound followed by no video
Troubleshooting issues with video
Your eMac won't start up in Mac OS X (Mac OS X 10.3.9 or earlier)
Graphic anomalies
No video or garbled video
Web browser issues
You see a blue or grey screen
You see an icon of a broken folder
You see a flashing question mark
Apple eMac Repair and Upgrade services we offer
Hard drive upgrade and replacement
eMac logic board repair
Keyboard repair and replacement
eMac data recovery
Data back up and transfer
eMac optical drive replacement
Software troubleshooting and installation
Fix video and power issues
eMac power supply replacement
It doesn't matter where you experience any of these issues – no power, no video, hard drive issues, won't read CDs or issues with keyboard, mouse, USB ports or FireWire ports. Our specialist Apple eMac repair technicians are experienced to trace out the actual causes of your eMac desktop problems and offer the best services to diagnose and fix the problems at the earliest.
To know more about our same day, London Apple eMac repair, upgrade and replacement services, call us on
020 7237 6805 or you can email us at info@creativeit.tv.
We are open from 9.00 am to 6.00 pm, Monday to Saturday.