Is your Alienware notebook facing any hardware, operating system or software problem? Creative IT, based in Central London, can provide specialist Alienware laptop repair and upgrade solutions for customers in and around London. Creative IT is one of the leading service providers in UK of laptop and notebook repair, support and maintenance services. Alienware notebook repair is one our specialty services. We offer notebook computer repair services to small and medium business and residential clients throughout the UK.
Expert Alienware Laptop Repair and Upgrade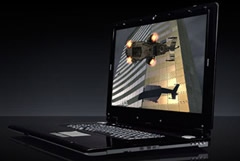 At Creative IT, we have a team of qualified London Alienware laptop repair technicians and engineers who are proficient in troubleshoot and fixing most laptop issues quickly. Our experts carefully make out the cause of malfunctioning of your Alienware notebook. We repair faulty parts and components and also replace it with new parts, if necessary. We offer our same day, specialist laptop repair, upgrade and replacement services for all Alienware notebook models including M11x, M11xR2, M15x, M17x, M17xR2, M17xR3, Area 51 m15x, Area 51 m17x, Area-51 m5550, Area-51 m9750, Area-51/MJ-12 m5500, Area-51/MJ-12 m5700, Area-51/MJ-12 m7700, Area-51m 5620, Aurora m9700, Aurora mALX, Aurora/MJ-12 m7700, Sentia 223, Sentia 244, Sentia m3200, Sentia m3400 and Sentia m3450 models.
Our London Alienware Laptop Repair services include:
Alienware LCD screen repair
Alienware LCD screen replacement
Motherboard repair and replacement
Virus, malware and spyware removal
Alienware laptop DC power jack repair and replacement
LCD hinges repair and replacement
LCD inverter repair and replacement
Video card / chip repair
Laptop memory (RAM) upgrade
Liquid spill / damage repair
Laptop hard drive repair
DVD/CD drive upgrade and replacement
Laptop data recovery and transfer
Laptop touchpad replacement
Backlight repair and replacement
Hard drive upgrade and replacement
Keyboard repair and replacement
With Creative IT, you can take advantage of our professional, London Alienware laptop repair and upgrade services at reasonable rates. Quick and competent same day Alienware notebook repair is our area of expertise. For more information on our cost effective repair and upgrade solutions, please get in touch with us on 0207 237 6805 or email us at info@creativeit.tv.