Our aim at Creative IT, based in Central London, is to offer affordable Alienware desktop repair and upgrade services. With over 15 years experience in the desktop computer repair and service industry, our technicians will provide you with a quick and accurate assessment of the job necessary to repair your defective Area-51, Area-51 ALX, Aurora, Aurora-R2 and Aurora ALX desktop computer models. Our repair centre has provided the gaming community in London and all over the UK with professional Alienware desktop computer repair and upgrade services for the past few years.
Common Alienware Desktop Computer Problems: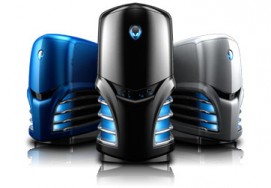 Experiencing slow performance
Having a problem using CD or DVD drive
Computer does not turn on or start up successfully
Computer freezes or locks up when using it
Windows operating system restarting by itself
Computer displaying a blue screen error (BSOD)
If your Alienware desktop computer is experiencing blue screen errors, irregular or slow system performance, abnormal activities or malfunctions, it is possible that your system might be infected with a virus.
Affordable Alienware Desktop Repair and Upgrade Services
Alienware Area-51 Repair
Alienware Area-51 ALX Repair
Alienware Aurora Repair
Alienware Aurora-R2 Repair
Alienware Aurora ALX Repair
London Alienware Desktop Computer Repair and Upgrade Services
Hard drive upgrade and replacement
Hard drive data recovery
Installation / re-installation of any operating system
CD / DVD drive upgrade and replacement
Power supply replacement
Video card upgrade
Alienware motherboard repair and replacement
Alienware memory upgrade
Alienware CPU upgrade
Troubleshoot software errors
Optimizing your desktop's speed and performance
Troubleshoot and repair of your hardware issues
Our technicians will run a scan to detect any virus or spyware and have this removed. As part of our London Alienware desktop repair services, we will clean and remove unwanted files such as temporary files, cache and cookies.
Our Central London repair centre is open Monday to Saturday from 9:00 am to 6:00 pm for specialist Alienware desktop repair and upgrade services. For more information about our London Alienware desktop computer repair, upgrade and replacement services for Area-51, Area-51 ALX, Aurora, Aurora-R2 and Aurora ALX desktop models, give us a call today on 020 7237 6805 or send us an e-mail at info@creativeit.tv.