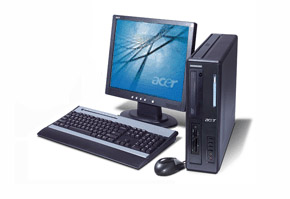 AcerPower Desktop Repair in London
Creative IT, based in London, provides expert, high quality AcerPower desktop repair and upgrade services for both residential and commercial clients. Our experienced team of
Acer desktop computer repair technicians can troubleshoot and fix all hardware, operating system and software problems of AcerPower 1000, 2000, 8000, 8400, F1, F2, F3, F5, F6, FE, FG, FV, M2C, M35, M36, M6, M8, S220, S260, S280, S285, S290, SD20, Se, SK20, SK30, SK35, SK50, SLe, SN, SP, ST, SV, Sx and SxB desktop models.
Our AcerPower desktop computer repair, upgrade and replacement services are affordable, quick and reliable. With over 15 years of practical experience in the industry, we have the competency to tackle any desktop PC related problem you may experience. We will carry out a comprehensive diagnosis of your AcerPower
desktop PC and recommend what the problems are and the necessary repairs to be carried out.
Professional London AcerPower Desktop Repair and Upgrade
Our expert technicians can troubleshoot and fix all types of issues with your AcerPower desktop model, including desktop will not boot up, CD/DVD drive is not detected in Windows, CD audio does not play in Windows, stuck CD or DVD drive tray, drive cannot read discs, error messages during start-up / shutdown, power supply issues, start up problems in Windows, Windows does not shut down, computer always starts in safe mode, monitor is blank after starting the computer, Windows stops at the start up menu, an unknown registry error has occurred, not enough memory available to run a program, problems connecting to the Internet, Internet Explorer issues, Microsoft Windows networking error codes, Windows becomes very slow after connecting to the Internet, spyware / adware and browser hijacking software issues, faulty graphics cards, out of disk space errors, cannot create or replace a file or folder, registry problems, fatal exception errors, faulty motherboard, hard drive failure errors, running out of hard drive space, CMOS battery has failed, you hear beeps when you turn on the computer, network connection problems, Windows BSOD (Blue Screen of Death) error appears, system freezes, monitor displays message about no signal / signal out of range, problems with mouse, mouse pointer stops moving periodically, Windows sound problems and computer locks with multiple anti-virus programs.
Our London AcerPower Desktop Repair services include:
Upgrading and Servicing Desktop PC
Installing or Replacing a Hard Drive
Upgrading Memory (RAM)
Upgrading or Replacing the Processor
Clean and remove Windows Temporary Files
Software and Peripheral Installation
Data Transfer and Backup
Operating System Upgrade
Graphics Card Upgrade or Replacement
Data Recovery and Backup
Registry Cleanup
Liquid Damage Repair
Computer Cleaning and Dust Removal
Installing or Replacing a Sound Card
Replacing a Floppy Drive
Updating the BIOS
Removing and Replacing CMOS Battery
Adding or Replacing a CD or DVD Drive
Installing or Replacing a Video Card
Updating Modem Drivers
Resolving Fatal Exception Errors
Effective Parental Controls
Comprehensive Virus / Spyware / Malware Protection
Check for hardware, software and operating system problems
Clean and remove unwanted files (cache, cookies)
Motherboard Repair and Replacement
If you are interested to know more about our same day London AcerPower desktop repair and AcerPower
desktop PC upgrade services, feel free to contact Creative IT today at 020 7237 6805 or send us an e-mail at
info@creativeit.tv.
Our London Acer PC Services:
Acer PC Sound Card Repair
Acer Cooling Fan Repair
Acer PC CD ROM Repair
Acer PC Data Recovery Service
Acer PC Data Migration
Acer PC Data Transfer
Acer DC Power Jack Repair
Acer PC DVD ROM Repair
Acer PC Fix and Repair
Acer PC Hard Drive Upgrade
Acer PC Hard Disk Repair
Acer PC Hard Disk Data Recovery
Acer PC Keyboard Repair
Acer PC Maintenance and Repair
Acer PC Upgrade
Acer PC LCD Screen Repair
Acer PC Motherboard Repair
Acer PC Memory Upgrade
Acer Offsite PC Repair
Acer Onsite PC Repair
Acer PC Password Removal
Acer PC Repair and Upgrade
Acer PC Screen Repair
Acer PC Service Centre
Acer PC Motherboard Replacement
Acer PC Virus Removal