Do you wish to have a reliable Acer TravelMate laptop screen repair or replacement service at affordable prices? Then just get in touch with Creative IT. We have a team of trained and experienced Acer laptop repair technicians with a positive attitude to troubleshoot and resolve your entire Acer TravelMate laptop screen or display problems. Acer TravelMate Screen Replacement
Specialist Acer TravelMate Laptop Screen Repair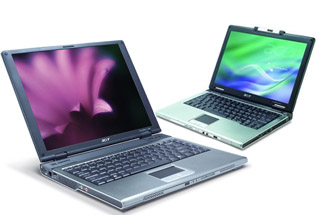 Our dedicated technicians can troubleshoot and offer practical solutions for laptop screen and display problems such as black or blank screen, distorted or scrambled video, no video issues, random characters on the screen, stretched or blurry images, black splotches cutting through the screen, diagonal or jagged lines, screen has colour problems, horizontal or vertical lines, multiple images, cracked or broken screen, brightness and contrast problems, font or screen is fuzzy, some areas of the screen appear darker, screens with faint images, bright or dead pixels, display is dim during or after start up or boot, flickering screen, incorrect colours, LCD around edges is discoloured, resolution too low, splotched sections, black splotch with white sections, images are jumbled, blotches and white spots, red lines on the screen, lines or dark spots on the display, backlight or inverter problems and 1 long and 2 short beeps.
Acer TravelMate Laptop LCD Screens – 17″, 15.4″, 15″, 13.3″, 12.1″, 11.3″, 10.4″, 9.4″, 8.4″ inch screens – We stock brand new replacement screens for your entire Acer laptop screen replacement needs in the UK and provide quick installation services when you purchase a laptop screen from us. Creative IT professionals never go for a replacement service if your laptop screen issue can be fixed. We can collect your Acer TravelMate laptop from anywhere in the UK and carry out same day Acer TravelMate laptop screen repair and laptop screen replacement services and after that deliver the laptop back to you.
3 Month Back to Base Warranty
We provide our customers with a 3 months back to base warranty for all Acer TravelMate laptop screen repair and laptop screen replacement services.
To know more about our same day Acer TravelMate laptop screen repair and Acer TravelMate laptop screen replacement service, please call us at 020 7237 6805 or send us an email at info@creativeit.tv.
Our London Acer Laptop Services:
Acer Laptop Backlight Repair
Acer Circuit Board Repair
Acer Cooling Fan Repair
Acer Laptop CD ROM Repair
Acer Data Recovery Service
Acer Laptop Data Migration
Acer Laptop Data Transfer
Acer DC Power Jack Repair
Acer Laptop DVD ROM Repair
Acer Laptop Fix and Repair
Acer Laptop Hard Drive Upgrade
Acer Laptop Hard Disk Repair
Acer Hard Disk Data Recovery
Acer Laptop Keyboard Repair
Acer Laptop Maintenance and Repair
Acer Laptop Upgrade
Acer LCD Screen Repair
Acer Laptop Motherboard Repair
Acer Laptop Memory Upgrade
Acer Offsite
Laptop Repair
Acer Onsite Laptop Repair
Acer Laptop Password
Removal
Acer Laptop Repair and Upgrade
Acer Laptop Screen
Repair
Acer Laptop Service Centre
Acer Motherboard
Replacement
Acer Laptop Virus Removal