Nationwide Acer Laptop Repair and Upgrade Service Centre
Creative IT is one of the foremost and well established Acer laptop service centres in the London, UK. We provide the most sensible solutions for all Acer laptop repair and upgrade requirements for clients across various industry sectors.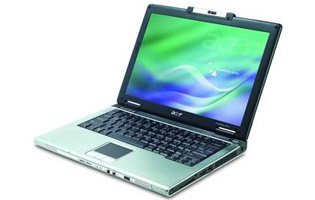 At our London Acer laptop service centre, we even have an expert team of qualified technicians who can effectively troubleshoot and fix Acer Ferrari, Aspire, TravelMate and Extensa notebook models.
Being a leading Acer laptop service centre, Creative IT can suggest solutions for your defective Acer laptop LCD, inverter, DC power jack, motherboard, hinges, keyboard, memory, optical drives, power adapters, cables, network card/modems and laptop hard disk drives. You can also benefit from our Acer laptop password removal, hardware and software installation, laptop touchpad replacement, laptop data recovery and laptop data migration services.
Laptop Repair / Troubleshooting
Laptop Set Up / Installation
Hard Drive Data Transfer
Hard Drive Upgrade / Replacement
CD-ROM, CDR-W, DVD Upgrade / Replacement
LCD Inverter Repair
Wireless Router Installation
Virus / Ad-Ware / Spy-Ware Removal

Laptop Keyboard Repair and Replacement
Laptop RAM / Memory Upgrade / Replacement
Acer Laptop LCD Screen Replacement
LCD Backlight Repair / Replacement
Network Installation / Network Troubleshooting

Laptop Motherboard Repair / Replacement
Laptop Touchpad Replacement
Laptop Hinge Repair / Replacement
DC Power Jack Repair / Replacement
To get more information on our professional Acer laptop service centre and the same day laptop repair and upgrade services we offer for Acer Ferrari, Aspire, TravelMate and Extensa notebook models, give us a call at 020 7237 6805 or send us an e-mail to info@creativeit.tv. We are open for business Monday to Saturday, from 09.00 am to 06.00 pm.
Our London Acer Laptop Services:
Acer Laptop Backlight Repair
Acer Circuit Board Repair
Acer Cooling Fan Repair
Acer Laptop CD ROM Repair
Acer Data Recovery Service
Acer Laptop Data Migration
Acer Laptop Data Transfer
Acer DC Power Jack Repair
Acer Laptop DVD ROM Repair
Acer Laptop Fix and Repair
Acer Laptop Hard Drive Upgrade
Acer Laptop Hard Disk Repair
Acer Hard Disk Data Recovery
Acer Laptop Keyboard Repair
Acer Laptop Maintenance and Repair
Acer Laptop Upgrade
Acer LCD Screen Repair
Acer Laptop Motherboard Repair
Acer Laptop Memory Upgrade
Acer Offsite
Laptop Repair
Acer Onsite Laptop Repair
Acer Laptop Password
Removal
Acer Laptop Repair and Upgrade
Acer Laptop Screen
Repair
Acer Laptop Service Centre
Acer Motherboard
Replacement
Acer Laptop Virus Removal