Did you spill liquid such as water, coffee, juice, milk or wine on your Acer laptop motherboard or is it that you have a dead motherboard with no activity at all as a result of a power surge or overheating. As part of our specialist Acer laptop motherboard repair services, we use one of the best selling and most widespread rework systems in the world which offers the best cost/performance ratio. We can troubleshoot your defective Acer Ferrari, Acer Aspire, Acer TravelMate and Acer Extensa motherboards so as to locate the damaged or faulty components and replace these components.
Specialists in Acer Laptop Motherboard Repair and Replacement Services
We can efficiently troubleshoot and repair Acer laptop motherboards with video and display issues such as: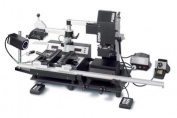 Multiple Images / Duplicate Images
Random Characters on the Screen
Lines on the Screen
Distorted Video
No Video on the Screen
Scrambled Video
Vertical and Horizontal Lines
Flickering Action
Intermittent Booting
Blank Screen
White Lines Running Across Screen
3 Beeps
Acer Laptop Component Level Motherboard Repair
Video issues in laptop motherboards are caused by loose or shorted BGA video chip on the motherboard or on the individual video card. We will perform BGA rework or replacement services for this video chip to fix your Acer laptop motherboard problem. All our Acer laptop motherboard repair engineers are comprehensively trained in laptop motherboard repair
services right down to the component level.
Fast and Reliable Acer Laptop Motherboard Repair Services
We are experienced in all levels of Acer laptop motherboard repair services such as:
DC Jack/Fuse Replacement
Power IC Replacement
Controller IC Replacement
Replacing bad IC components on the motherboard
BGA Rework Reflow (Northbridge / Southbridge / Graphics Chips)
BGA Reballing
Creative IT, based in London, is your perfect answer for all your Acer laptop motherboard repair and Acer laptop liquid damage repair needs in the UK. With cutting edge rework systems and technology, we are much more equipped than our competitors to repair Northbridge and GPU issues which are frequent on most laptop and notebook computer models.
Please contact us at 020 7237 6805 or email us at info@creativeit.tv or bring in your defective notebook to our Central London Acer laptop repair centre for a professional evaluation and accordingly we can carry out expert Acer laptop motherboard repair services for all Ferrari, Aspire, TravelMate and Extensa notebook models.