Lost all your valuable data in your Acer laptop as a result of a hard drive crash? Relax; Creative IT can help you to retrieve your important files and folders. We offer quick, professional and cost-effective Acer laptop data recovery services in the UK. We have to our credit a proven track record of providing high-quality, secure and quick laptop
hard drive data recovery services at affordable rates for Acer Aspire, Acer Ferrari, Acer Extensa and Acer TravelMate notebook models.
Creative IT provides secure, comprehensive and accurate Acer laptop data recovery of lost and inaccessible data from damaged, deleted, formatted, lost and corrupted hard drive partitions. We can securely retrieve and restore lost files from FAT and NTFS files systems of Windows and other IDE, SCSI, EIDE and SATA, PAN, ZIP and USB drives.
Secure Acer Laptop Hard Drive Data Recovery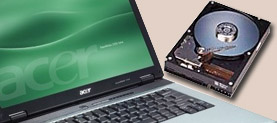 Coupled with vast industry experience and sophisticated technologies, our core strength lies is our committed team of data recovery engineers on whom you can rely on for efficient and timely completion of your Acer laptop hard drive data recovery job. Let it be a simple hard drive crash or complicated technical errors, our data recovery experts have profound knowledge and latest data recovery software and tools to extract your lost data from your Acer notebook hard drive. Our hard drive data recovery experts can productively recover data lost due to environmental factors such as heat, water, fire or dust and other reasons such as hardware malfunction, partition table errors, physical damage, corruption of FAT or NTFS file system, head crash, deletion of partition, software errors, liquid damage, damaged logical drives, accidental formatting of hard drive, unexpected shutdown, corruption of Windows registry, virus attack and bad sectors.
Express and Standard Acer Laptop Data Recovery Options
Creative IT can successfully carry out fast, secure, and confidential Acer laptop data recovery services from Windows 7, Windows Vista, XP, 2000, 2003, NT, 98, 95 and ME operating systems and from NTFS, NTFS5, FAT12, FAT16 and FAT32 file systems. Once your lost data is retrieved it can it can be transferred to you via CD, hard disk or though any other removable devices.
To know more about our Acer laptop data recovery and retrieval services for Acer Aspire, Acer Ferrari, Acer Extensa and Acer TravelMate notebook models in London, UK please contact us at 020 7237 6805 or email us at
info@creativeit.tv.