Is your Acer Ferrari laptop experiencing hardware problems? Do you need assistance to fix your notebook problems such as laptop will not boot up, laptop overheating, motherboard faulty or blue screen of death (BSOD) errors? Then get expert and reliable Acer Ferrari laptop repair services from Creative IT – a highly reputable laptop repair and upgrade centre in Central London. We can offer you cost effective solutions for any hardware, operating system, software or networking problem that your Acer Ferrari notebook may encounter.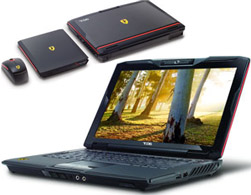 At Creative IT, we provide outstanding Acer Ferrari laptop repair, replacement and upgrade services for Ferrari 1000, Ferrari 1100, Ferrari 1200, Ferrari 3000, Ferrari 3200, Ferrari 3400, Ferrari 4000 and Ferrari 5000 notebook models. Our knowledgeable laptop technicians are experienced in component level motherboard repair and carry out prompt service to both residential and business clients.
Professional Acer Ferrari Laptop Repair and Upgrade
Acer Ferrari laptop screen repair
Acer Ferrari LCD screen replacement
Motherboard repair and replacement
DC power jack repair and replacement
Laptop hard drive repair
Hard drive upgrade and replacement
Keyboard repair and replacement
DVD/CD drive upgrade and replacement
Laptop data recovery and transfer
Laptop touchpad replacement
Virus, malware and spyware removal
Video card / chip repair
Laptop memory (RAM) upgrade
Liquid spill / damage repair
LCD hinges repair and replacement
LCD inverter repair and replacement
Backlight repair and replacement
Nationwide Mail-In Laptop Repair Services
We offer nationwide mail-in Acer Ferrari laptop repair services. We can also arrange for a secure pick-up and delivery service if required. We will pick-up your laptop, carry out the necessary repair work at our Central London repair facility and then deliver it back to you at the earliest possible. Creative IT also offers 90 days, back to base warranty on most hardware repair services performed and for new parts supplied and fitted.
Please contact Creative IT Acer laptop repair centre at 020 7237 6805 or e-mail us at info@creativeit.tv for more information on our same day London Acer Ferrari laptop repair, upgrade and replacement services in the UK.
Our London Acer Laptop Services:
Acer Laptop Backlight Repair
Acer Circuit Board Repair
Acer Cooling Fan Repair
Acer Laptop CD ROM Repair
Acer Data Recovery Service
Acer Laptop Data Migration
Acer Laptop Data Transfer
Acer DC Power Jack Repair
Acer Laptop DVD ROM Repair
Acer Laptop Fix and Repair
Acer Laptop Hard Drive Upgrade
Acer Laptop Hard Disk Repair
Acer Hard Disk Data Recovery
Acer Laptop Keyboard Repair
Acer Laptop Maintenance and Repair
Acer Laptop Upgrade
Acer LCD Screen Repair
Acer Laptop Motherboard Repair
Acer Laptop Memory Upgrade
Acer Offsite
Laptop Repair
Acer Onsite Laptop Repair
Acer Laptop Password
Removal
Acer Laptop Repair and Upgrade
Acer Laptop Screen
Repair
Acer Laptop Service Centre
Acer Motherboard
Replacement
Acer Laptop Virus Removal