Do you have a problem with your glossy 13.3-inch, widescreen LED backlit Apple MacBook Air display? Well calm down; you have reached one of the best places for MacBook Air LCD Screen Repair. Creative IT is a laptop repair and maintenance service providers based in London, UK. We are capable of handling all problems related to laptops and notebooks and specialize in Laptop LCD Screen Repair. We offer LCD/screen repair and replacement service on just about all makes and models of laptops available in the market.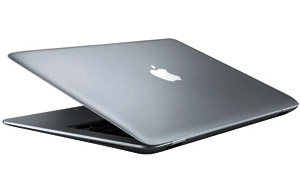 If you require your broken / cracked MacBook Air LCD panel in your laptop replaced, all you need do is either call us and we will do the rest. Creative IT is also focused in the sale of MacBook Air 13.3-inch LCD screens for laptop LCD screen replacement. Our knowledgeable staff and advanced inventory will make sure that you receive an unmatched service in the UK. We can arrange for your broken or cracked MacBook Air screen to be picked up at a suitable time for you, repair or replace it as quick as potential, and deliver it back to you at the most affordable rates. You can also ship your laptop to our Central London laptop LCD screen repair center.
Place an order before 2:30 PM and your display will be shipped Same Day
We have substantial experience in dealing with LCD screen repairs and replacement service of different makes and models of Apple laptops. Our mission is to be the most competitively-priced and service-oriented Laptop LCD Screen Repair facility in London. Can't find the right MacBook Air 13-inch LCD Accessories? Our expert technical sales staff can help you identify the part that you necessitate. Please do call us at 0207-237-6805 or feel free to email us at info@creativeit.tv regarding your MacBook Air LCD Screen Repair in London and right through the UK.