Cracked and broken LCD screens are very common in case of laptop, that's why we offer a professional LCD repair service. With years of experience and great resources, Creative IT has become a superior Compaq Presario V4000 LCD screen repair and solution provider in various cities of London UK. Come and have a satisfactory and hassle free service for a competitive price. We can repair many of your LCD common problems. We provide low cost quality LCD screen replacement on all makes and models of Compaq Presario V4000 series of laptops.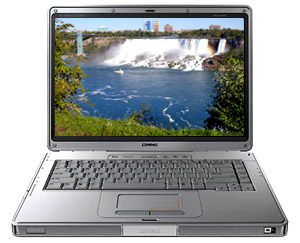 We have technical proficiency, wide coverage, and state-of-art tools to go together with an unparalleled Compaq Presario V4000 LCD repair service. Creative IT takes pleasure to cater to individual as well as business groups in time bound manner. Compaq Presario V4000 LCD issues such as unexpected dimming, dark display, blank outs, lines on the screen and flickers can be fixed quickly and efficiently with the aid of our latest repair tools and techniques.
Our technical staff is always ready to respond your call immediately. They will come to your destination and take the faulty Compaq Presario V4000 laptop to our full fledged lab in Central London for an in depth LCD screen repair and replacement service. Don't get annoyed about the Compaq Presario V4000 LCD repair price. Because we charge only less when compared with others in the field and you get an idea about the cost of work before we start.
Normal LCD failures are due to the malfunctioning of backlights, electronic components on display panel, LCD lamp, LCD transformer, or LCD panel. Creative IT sources out best priced genuine LCD parts for replacement service. You can also get technical support regarding parts replacement from our customer service representatives. We have replacements for every make and model of Compaq Presario laptop on the market. More outstandingly, in some instances our affordable screens cost less than those offered by the laptop manufacturers themselves.
To know more about Compaq Presario V4000 LCD screen repair or replacement, please contact us at 020 7237 6805 or send us an email at info@creativeit.tv. You can have an informative chat with our representatives to find an appropriate solution for your Compaq Presario V4000 laptop LCD problems.