Is your Compaq Presario V2000 laptop LCD a concern because of some malfunctions? Get an expert touch for reliable Compaq Presario V2000 LCD repair. You can rely on Creative IT for flawless services. Don't hesitate to call us when you are in emergency. We also provide Compaq Presario V2000 laptop LCD replacement screens that are brand-new for reasonably priced. We can also provide refurbished (used) screens at a discount. If your screen is cracked, broken, or damaged, we can promptly get you a replacement for a price much more economically than laptop manufacturers offer, particularly our inexpensive refurbished screens.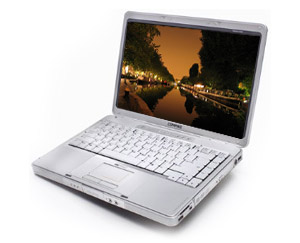 Commonly observed errors of Compaq Presario V2000 LCD are display blinking, flickers, lines on screen, dark display, and blanks out. These problems can be rectified promptly by using latest technology and technical expertise. Our full fledged lab facilities with most modern laptop repair tools and techniques help us to offer time bound Compaq Presario V2000 LCD screen repair and replacement services around various cities in London, UK.
Creative IT is fortunate to have skilled technicians with great efficiency. They will reach your site on call and take the faulty Compaq Presario V2000 laptop to our workstation for thorough repair. We offer free estimate prior to the work and always stick on to our predetermined quote which is exceptionally low when compared with that of our competitors.
Sometimes Compaq Presario V2000 laptop LCD parts are beyond repair, and then Creative IT provides option for parts replacement. We stock wide range of LCD polarized glass sheet, backlight, liquid crystal solution layer, controller board, flex data cables, inverter, or LCD panel for replacement service. You can have expert advice regarding Compaq Presario V2000 LCD parts replacement for durability.
Do you wish to have other laptop computing jobs such as networking, security set ups, router configuration, software installation, virus removal, laptop repair, and data recovery? We perform data recovery for all makes, model and size hard drives. Our data recovery engineers have state-of-the-art tools, extensive documentation and experience to execute complicated data recovery from wide range of hard drives. Creative IT has full resource to provide international standard in every service. It is our privilege to have individual users, business groups, and organizations as our valued customers.
We also provide comprehensive maintenance contract for Compaq Presario V2000 laptops to save you from unexpected LCD screen backlight and inverter issues. For more details about Compaq Presario V2000 LCD screen repair have a live chat with our customer service representatives at 020 72376805. You can also email at info@creativeit.tv to get an immediate response.